A Catalan, a Greek and an Argentinian with one purpose:
to give a great service to their clients, always with a smile and with a lot of professionalism and dedication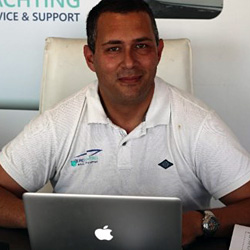 Kostas Saltouridis
Commercial Dpt
With a diploma in tourism and a diploma as merchant marine officer in Greece, Kostas has worked 15 years as chief purser in different cruise ships before starting to work in leisure yachting.
His passion is sailing and he knows the minimum detail of any sailing boat.
Kostas speaks Greek, Spanish, English and Italian and he enjoys advising navigators in a new purchase as well in installing new equipment.
Kostas is also coastal yacht master and diving instructor.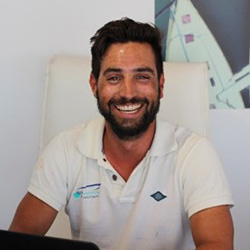 Nicolas Arau
Sailing Dpt
Nico has worked with sailing boats for about 12 years and has rigged over 100 boats from 6 to 22 meters. He has a wide experience as rigger but also as technician of the various systems of the leisure boats.
In Iberoyachting, Nico follows up the projects of sailing boats in all their details and is responsable for the delivery of those boats to the clients.
Nico is offshore yacht master and diver.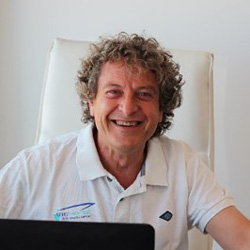 Juan Esteban
Motorboats Dpt
Juan follows up the motorboats projects in Iberoyachting. He has more than 20 years of experience in nautical projects and has repaired all types of engines from different nautical brands. He is always being trained by the best brands of nautical engines.
Juan is also an expert in electrical, electronical, hydraulic… installations in all kind of boats.
Juan is offshore yacht master and enjoys spending time on the beach with his family.
WE MAKE IT WORK
Contact us for more information